What People Say About Our Custom Woodworks
Hear what our customers have thought of our work and services! With an A+ rating with the Better Business Bureu , Angi.com and much more, we strive to provide superior craftsmanship and customer service. Through your reviews and suggestions we can ensure that our quality, customer service and atmosphere will improve and remain at the highest standards.
If you would like to review us, please find the links listed at the bottom of the page. We would greatly appreciate your input!
"Lakeside is wonderful to work with, from start to finish. We have a beautiful custom kitchen that actually cost us a bit less than comparable box cabinets would have through Menards. I highly recommend them for your home improvement project!"
~ Darian M.
"Thank you so much!! The cabinets are absolutely beautiful - so much more than I had expected. I will have to get you some pictures. You and your crew have put the finishing touch on our whole house, and we couldn't be happier with how it has all turned out. Thank you again."
~ Sarah
"We have been happy with the quality of work they have done for us over the years. They listened to our ideas and helped us create the look we wanted. When a set of cabinets came to us from the stainer with the wrong color, they started the cabinets over from scratch, with no extra cost to us."
~ Brian and Karin M.
"We needed our cabinets done quickly and you made it happen. I loved working with such a friendly, helpful staff. I would recommend you to anyone."
~ Elizabeth & Ben H.
"Your designs turned out even better than we expected. You guys were awesome, and patient. Everything is so nice."
~ Steve and Lisa L.
"I had an idea, which you fine tuned to fit perfectly. The whole crew was fantastic and went above and beyond to help me with everything."
~ Tom C.
"Lakeside's quality & installation exceeded our expectations. We appreciated the "family" feel of how they worked with us. You are welcome and encouraged to come photograph your completed work!"
~ Stacy & Tim A.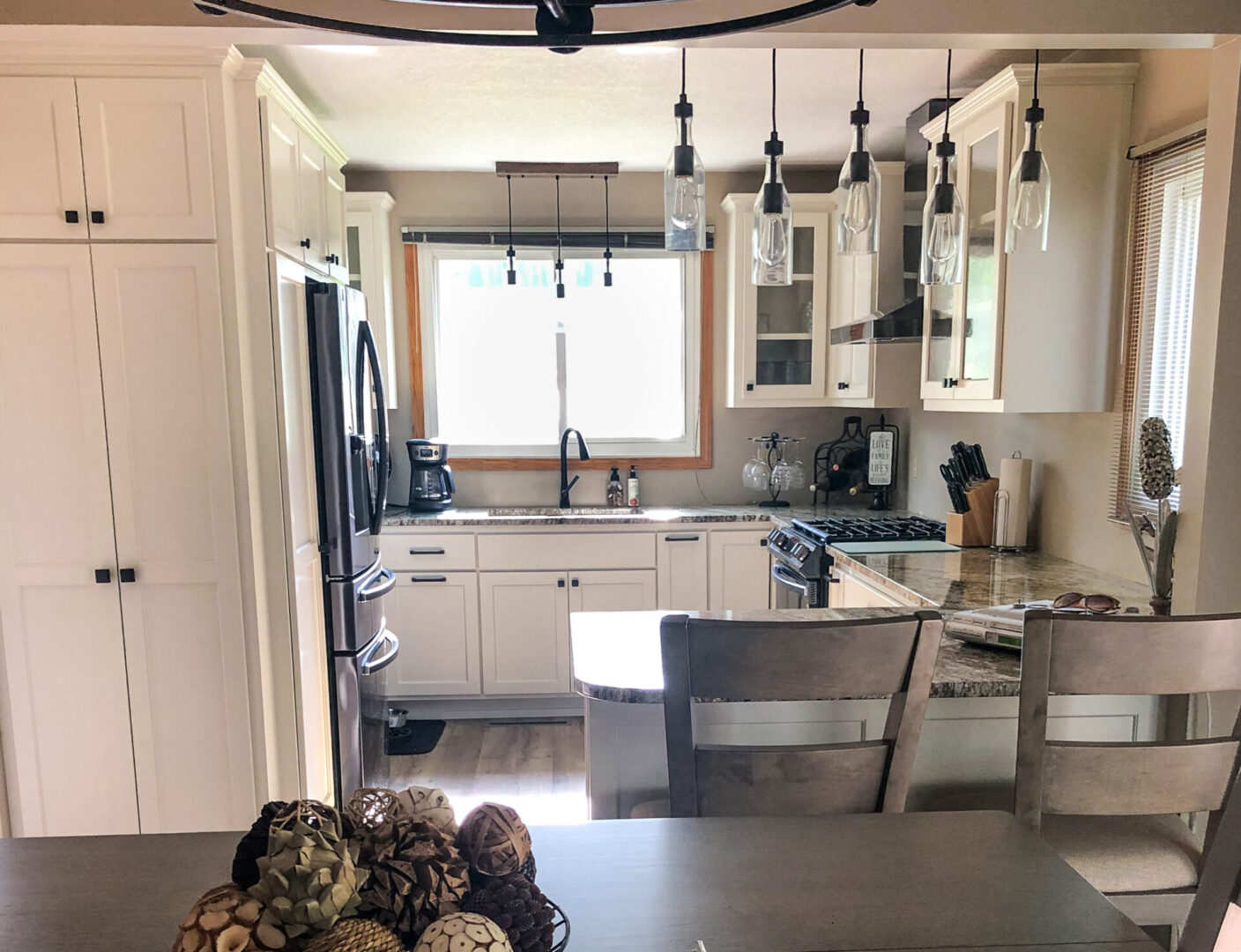 "We both absolutely love our kitchen. We waited a very long time for this renovation!! So happy to be rid of those 39 year old cabinets, countertops and flooring!!!  Please let everyone know that we greatly appreciated everyone that had a hand in the process! What a great team of employees! We are grateful. 😊"
~Michelle B.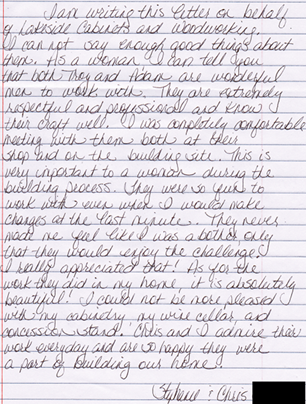 Want to tell us about your experience, fill out the form below. We would love to hear your comments and suggestions!