A Certified Woman-Centric Matters!® Woodworking Company
Facts And Questions Custom Cabinets MN, custom cabinets in anoka,
Facts and Questions about Lake Side Cabinets Custom Cabinet process and practices. If you by chance do not find you question here please feel free to Contact Us. We are always more than happy to be of service!
Custom cabinets in anoka, custom cabinet faq's
How do I start to get pricing for a project and what is the process?custom cabinets in anoka
You can either call us or visit our office to give us your preliminary information and project details. Your details will be submitted to our designers for review, where they will contact you shortly after. A designer will contact you to set up an appointment to review your needs and goals for your project and to take rough measurements. After which a designer will meet with you in our showroom, listen to your needs and share helpful ideas.
After your meeting, the designer will prepare 3-D renderings for your review. If the renderings receive your approval, an estimate will be prepared and forwarded to you. The estimate will detail several options that you can add or eliminate. Allowing you the freedom to pick and choose what is crucial to you project. If the estimate is approved the designer will then set up an appointment to come to your home to take the final measurements, and discuss an estimated scheduled delivery date.
Visit our Services or Products page for additional information about our products, designing and building process.
Do you have cabinet designers on staff?
Yes, we have two very experienced designers on staff who will walk you through every step of building your dream cabinets. From beginning to end they will be working along side with you to ensure your cabinets are what you envision for your home.
Set up an appointment or read about them in our Meet the Team page.
Can you recommend a remodeler or a builder?
Do you offer countertops?
Yes, we design and provide the countertops that will be ideal for you and your cabinets. Cultured Marble, Granite, Caesarstone, Laminate and Butcher Block, are among our selection for your to offer.
Browse our Counter Tops page or stop in to view samples.
Do you offer refacing service?
No, we do not offer the service of re-laminating older or used cabinets. You'll be surprisingly shocked how close the costs are for new cabinets versus refacing older ones. And since our estimation process is free, what could it hurt! Vist Our Services page to learn more!
Are custom cabinets more expensive than home improvement stores cabinets?
Several of our clients are pleasantly surprised at how reasonably priced our custom cabinets are. We encourage you to visit our show room or set up an appointment with one of our designers to look, feel and see the difference of our cabinets. Our design, build and finish are superior to what is commonly offered at the big box stores, we are 100% custom!
"Thank you so much!! The cabinets are absolutely beautiful - so much more than I had expected. You and your crew have put the finishing touch on our whole house, and we couldn't be happier with how it has all turned out. Thank you again."
~ Sarah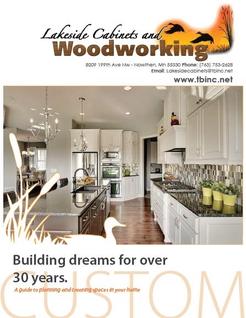 New Client Guide
Includes information on the different steps that go along with your project as well as helpful design information and what to expect from us.
Not finding your question? Just Ask Us!