Sturdy and Food-Safe Butcher Block Countertops
Butcher block is a style of assembled wood used as heavy duty chopping blocks, table tops, and cutting boards. Butcher blocks have been used extensively for centuries and still are in many European countries. More and more throughout the world many people are starting to use butcher block counters as an option to stone and even laminate countertops. This has created a new industry in the kitchen design arena.
One of the coolest things about a butcher block is that it can be sanded down and refinished as often as you'd like. Unlike many stone surfaces, it is inexpensive to sand down butcher block to restore a smooth surface. Wood is fully biodegradable when a natural finish is used so it does not contribute harmful chemicals to indoor air quality.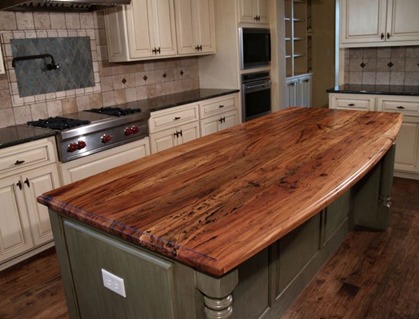 Maintenance depends on the type of finish you have. You can either leave the wood in its natural state where you would need to recondition/oil it or have a Varnique finish applied.
To recondition/oil a butcher block top, you will normally do this approximately once per month but in our Minnesota winters when the air is more dry, twice per month is recommended. We like to use John Boos Mystery Oil for this. Daily cleaning consists of wiping clean with a damp cloth and mild soap. Avoid harsh detergents, chemicals, and puddles of standing water.
What's the difference between Varnique Finish vs. Natural Penetrating Oil Finish?
Varnique Finish is a smooth semi-gloss finish, this type of finish is used for aesthetic purposes or for general food preparation tasks, including rolling dough, but you do not wish to cut upon it directly for it will damage the varnique finish. This finish requires low maintenance and can be easily cleaned with mild soap and warm water and will not need refinished or re-oiled. Varnique is also more resistant to water spotting and staining. If varnique surface is cut, it will need to be resealed using our Boos ® EZ-DO finish.
Natural Penetrating Oil Finish is a type of finish used as a cutting surface and is food-safe. The natural oil finish seals and protects the surface of the wood and unlike the varnique finish, can be cut directly upon the surface. It is recommended to re-oil the wood surface every 3-4 weeks depending on your usage. This maintenance keeps the butcher block from drying out and helps preserve the block and extend its life over time. Natural oil finishes can easily be sanded and re-oiled for a like-new appearance.